ABOUT US
We stock Sarashi and a range of Japanese pattern printed fabrics.
Sarashi fabric has been loved in Japan for many years. This simple fabric has been effectively used for various purposes. We would like to offer this fabrics in the world.
You can easily buy SARASHI from our shop!
Company information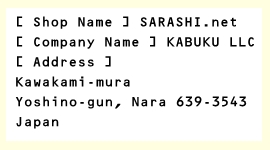 Please contact us for more information.